Compatible devices
eSIM compatible devices
---
Unlocked or SIM free
iPhones
iPhone SE 3 (2022)
iPhone 13 Pro Max
iPhone 13 Pro
iPhone 13 Mini
iPhone 13
iPhone 12 Pro Max
iPhone 12 Pro
iPhone 12 Mini
iPhone 12
iPhone SE 2 (2020)
iPhone 11 Pro
iPhone 11
iPhone XS Max
iPhone XS
iPhone XR
---
Unlocked or SIM free
iPads
iPad Pro 11" (1, 2, 3 generation)
iPad Pro 12.9" (3, 4, 5 generation)
iPad Air (3, 4, 5 generation)
iPad Mini (5, 6, generation)
iPad (7, 8, 9 generation)
---
Unlocked or SIM free
Smartphones
Smartphones which EID starts from following numbers are compatible.
・89049032~
・89033023~
・89033024~
・89043051~
・89043052~
To check your EID go to Settings > General > About > look under "EID".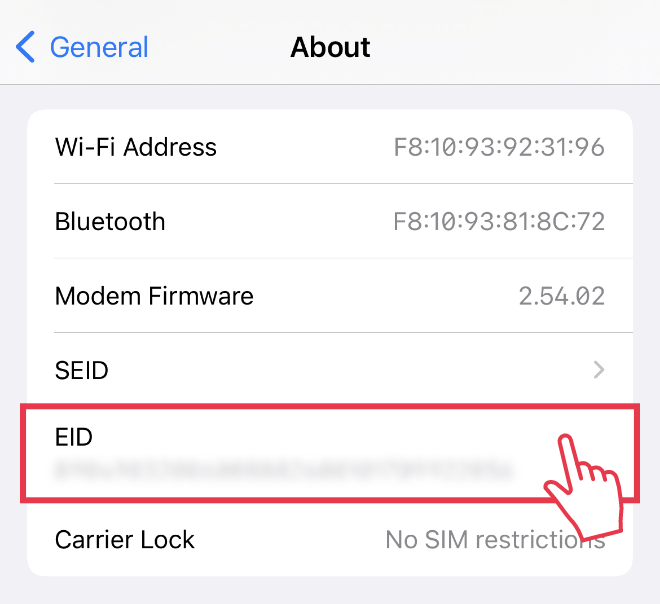 Even if your smartphone which EID starts from the above numbers, your smartphone may not be available due to the specifications of the device.
---
How to check your iPhone or iPad is unlocked or SIM free.
Go to Settings > General > About > look under "Carrier Lock".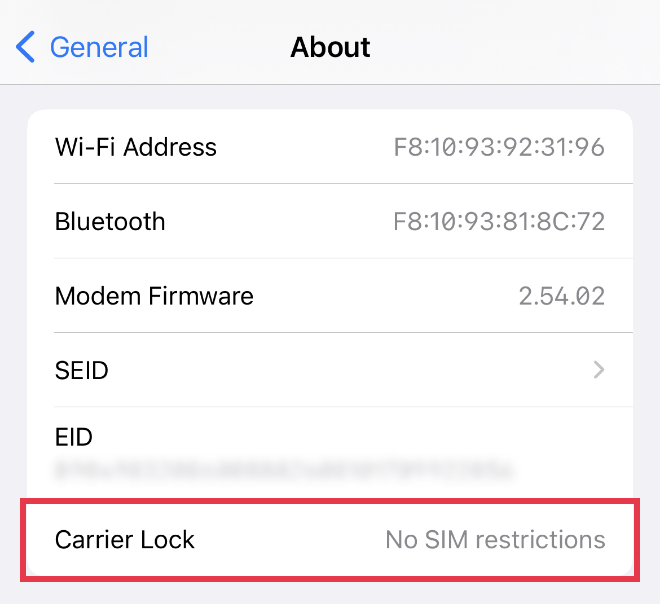 ---
NOTE
If you have other company's APN profile installed in your iPhone or iPad, you'll need to delete them to use VISITOR SIM.
Also, please be cautious as, most recently purchased NTT Network eSIM is dowloaded, previously purchased eSIM will not be available for download. If download is needed, reissuance fee of 1,000 yen would be required.