Charge
Please make sure that the Wi-Fi, bluetooth and data roaming are OFF before proceeding. Otherwise you can not access to the Online Charge page.
Please note that once the order is completed, we will not provide refunds or cancellations for any reason.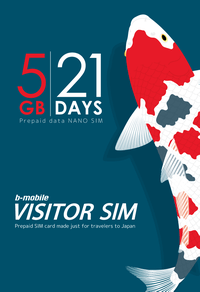 "VISITOR SIM 5GB/21days" users
You can charge from
here
.
Details regarding Online Charge
PLAN
1GB / 1Day (23:59)
- Charging within usable period + have remaining data;
Usable period will extend one day and 1GB will be added to the remaining data.
- Charging after usable period or after you used up all the data;
You can use 1GB until 23:59 on the day you have made charge.
Meaning if you make charge at 22:00, you can only use it for only two hours.
Therefore we recommend you to charge before your useable period expires.

Price
500 yen (including tax)

Chargeable period
Up till 2days after the expiration date

Chargeable only in Japan
Charging page is not accessible from overseas

Payment
Credit card payment ONLY

Chargeable SIM
You can only charge to the SIM card you use to access the Online Charge page.

Can't access?
Make sure your wifi is turned OFF.